"Christmas cookies and happy hearts, this is how the holiday starts."
Warm coffee and peppermint creamer. Candy canes and hot cocoa.  Snowball fights and sledding down the hill.  Watching Christmas movies and baking cookies. Winter is full of joy.  I don't know about you, but the holiday season is one of the most cherished time of year in my personal life and it all comes down to the customs it is built upon.
It is full of life and so much happiness because of the traditions, vibes, family gatherings, and time spent with loved ones.  I absolutely love the traditions I have built with my family over the years.  And one of my absolute favorite traditions is centered around (mostly) everyone's favorite part of the holiday season: baking cookies.
It has been a tradition for years for my grandma, my mom, and myself to make Christmas cookies to eat, and pass out to our loved ones.  We blast "Let It Snow" radio on Pandora and start baking every Christmas Eve-eve (the 23rd) from noon to 8 pm and it is SO. WORTH IT.  Therefore, I feel like this is a tradition that everyone should take on as it is fun, messy, sometimes frustrating, yet always rewarding.
Here are my 10 favorite cookies that I enjoy baking, eating, and sharing with my loved ones.
Classic Peanut Butter Blossom
https://www.bettycrocker.com/recipes/classic-peanut-butter-blossom-cookies/a3563f6e-96b0-443f-ae0a-53cef4be6db6
Classic Christmas Shaped Sugar Cookies
https://lizoncall.com/christmas-sugar-cookie-recipe/
Christmas Triple Chocolate Peppermint Cookies
https://www.cookingonthefrontburners.com/christmas-triple-chocolate-peppermint-cookies-recipe
Chocolate Peppermint Crunch Cookies
https://realhousemoms.com/chocolate-peppermint-crunch-cookies/
Santa's Trash Cookies
https://www.delish.com/cooking/recipes/a50432/santas-trash-cookies-recipe/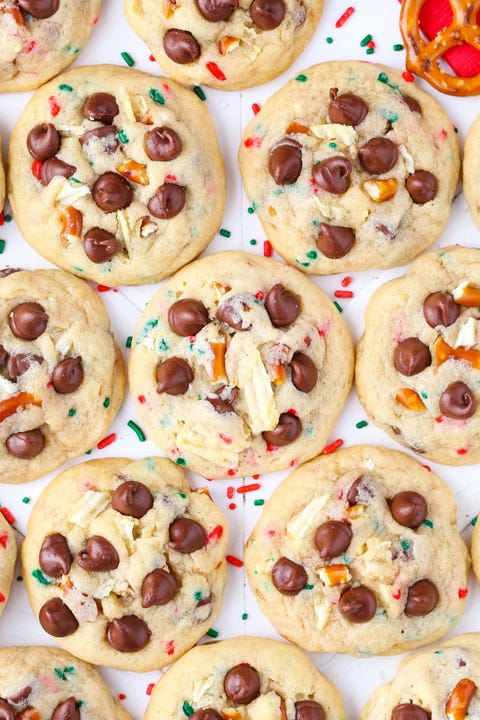 Peanut Butter Snowballs
https://www.delish.com/cooking/recipe-ideas/recipes/a57037/peanut-butter-snowballs-recipe/
Stuffed Caramel Cake Mix Cookies
https://www.bettycrocker.com/recipes/stuffed-caramel-cake-mix-cookies/62133196-ae0a-4784-8521-fe6823d39699
Candy Cane Twist Cookies
https://www.thekitchn.com/recipe-candy-cane-cookies-dessert-recipes-from-the-kitchn-213928

Peppermint Patty Stuffed Cookies
https://www.delish.com/cooking/recipes/a45304/peppermint-patty-stuffed-chocolate-cookies-recipe/

Now, don't get me wrong, I know there are SO many more delicious cookie recipes out there.  However, I am just here to tell you the ones that I have found to be a hit over the years.  If you have any awesome recipes I missed, feel free to leave them in the compliments below.  Otherwise, Happy Holidays y'all! Enjoy this time of year.  Whether you are doing traditions that have been around for decades or ringing in new ones, every moment has something to be cherished.
Enjoy it, be glad, and be thankful.
With all that I am,
Nicole
Please follow and like us: